Today we use 3d printed guide bushings for curved inlays to save the 150 bucks for this specialty router bit set. With this specialized set of router bits you can create curved pieces with a perfect match. However they are quite expensive and I think we can do better than this.
For my method all you need is an arbitrary straight bit and a flush trim bit. If you have access to a 3D printer you get the same functionality for around 1 Euro worth
of filament.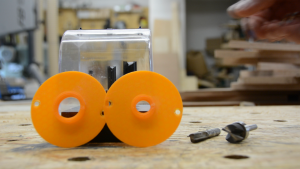 Getting the 3d printed guide bushing
So if you own the router bits already buying a simple 3D printer could actually be cheaper than buying the special bit set.
On my thingiverse page you can download a set of 2 guide bushings that you can customize for your router bit and router for free.
You just input the size of your router bit, the size of the router baseplate as well as the distance of the screw holes and you get a set of two guide bushings for your router.
After printing them you can install them as you would install a regular guide bushing.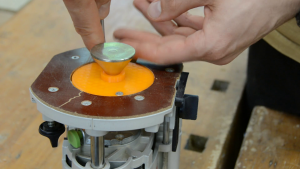 Cutting the templates
The first half of the template is created on the bandsaw and is only limited by your imagination and the diameter of the smaller bushing.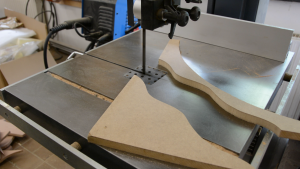 I use a flexible sanding strip to remove the bandsaw marks.
With the smaller bushing we copy the original template to a second one, template 2.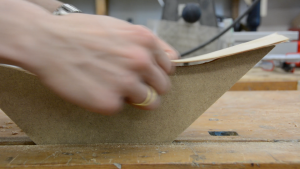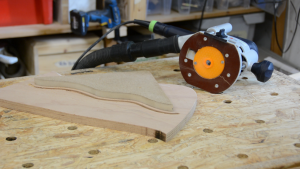 After creating template 2 we switch to the larger bushing and follow the shape of this template. This way we  create a third template that perfectly matches template number one.
Using the template and the 3d printed guide bushings
To create a simple curved inlay just follow each of the two templates with a flush trim bit. Then glue to two matching pieces together.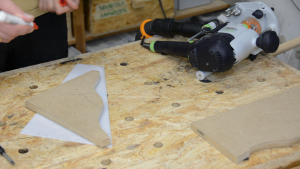 I had a scrap piece of acrylic and thought it would give a nice visual effect. I use one half of the template to shape the acrylic and the other half to route a recess in a piece of oak to create a decorative coaster.
After gluing the acrylic in place with silicone there is no visible gap.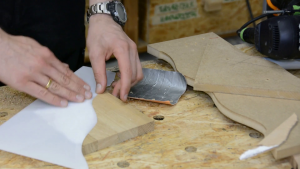 With this set of matching templates we can get creative and create all kind of shapes like cutting boards or the corner joint that I created in this article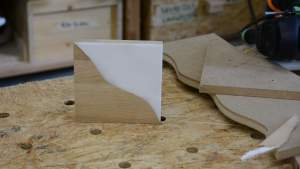 Resources
Tools