In this article I will describe my personal top 10 3d printing projects for the woodworking shop. These prints are jigs, materials and little helpers that I either found on thingiverse or designed myself.

Number 10: Sanding strips
If you have to sand in a very tight spot these small-scale sanding blocks are a big help. You can find a link to this and all other models in the video description.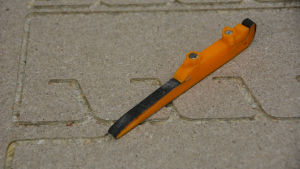 Number 9: Lamello distance plate and drill guide
This Lamello clamex connector is great for knock-down joinery as it only requires a small hole and is basically invisible. To create the holes I designed this drill guide.
If you position them at a 90 degree corner you can use the distance plate that comes with the jointer to combine 2 4mm slots into one 8mm slot that the connector requires. For mitred corner joints you either spend 180 bucks for a 8mm thick blade or 2 bucks for this custom-made distance plate that does the same as the one that comes with the jointer for mitred corner joints and creates a 8 mm slot.
Number 8: Keyhole hangers
This is a very simple but quite helpful design that you can customize to your needs on my thingiverse page. To hang a picture just bore a right sized hole and either press fit or glue the print in that hole to hang a picture.
Number 7: Shims
This might be the simplest possible 3d print. I always have a few simple prints in differ nt thincknesses at hand. This way it's very easy to move the workpiece another 1,5 mm closer to the tablesaw blade.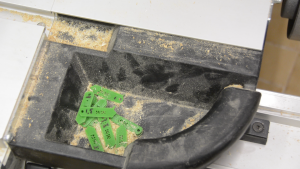 Number 6: Corner clamps
With four of these prints and a ratchet strap gluing up picture frames and boxes gets easy and reliable.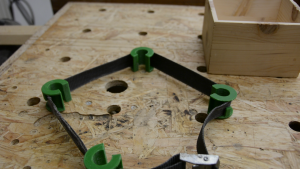 Number 5: Soft pads for clamps
If you are like me the soft pads that come with your clamps seem to magically disappear in the shop. In this case it's great if you can easily print a replacement.
Number 4: Dust collection adapters
I use adapters of all sizes in my shop. They connect the large dust collection at my shop-made table saw overhead arm. They connect different sizes of hoses and I even use some more complex Y-shaped adapters to split the airflow.
Number 3: Edgebanding trimmer
I found this design on thigiverse and love it. You simply put the blade of a utility knife in the jig, screw it tight and it makes trimming edge banding super simple and easy.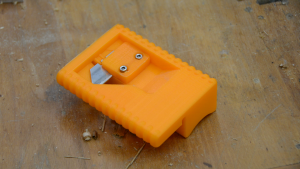 Number 2: Router guides
My number 2 is actually an entire category of 3dprints that guide my router. I use this principle a lot. Be it to create a simple drilling guide, to create floating tenons or to cut complex joinery.
I have links to videos for each of these jigs in the description.
Number 1: Knobs
The most frequently used 3dprint in my shop by far is the adjustment knob. I needs these knobs constantly for jigs and shop projects to make adjustment easy or to lock things in place. Buying them in the hardware store is not only expensive but also takes quite some time. Having the possibility to print them with a single click is great.
Although I recently upgraded to a larger 3d printer all of the things in this video were printed on a Anet A8 printer that costs around 120 bucks. I will leave a link to this printer in the description and hopefully you got some ideas how to use a 3dprinter in your shop.
Resources and links to all models
Tools