Today, I am working on  restoring this old step stool. I show you step by step how I am restoring an old step stool by refinishing it and supporting the sides with a sliding dovetail.
This step stool has served me well during my entire  childhood. It helped me to reach books and toys in my room. Now it's very beaten up,  damaged and  I would like to take a crack at restoring it.
The step stool is held together with  nails but the wood is in relatively good shape. The major challenge is  that the overhanging wood is broken.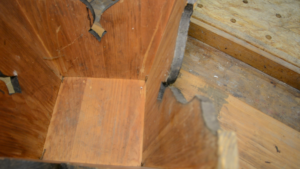 Someone tried to support the broken wood with  a nailed-on piece running across the grain. The nails do not have enough grip to really  support the overhang and if they would be replaced by screws they would prevent the wood  from expanding and contracting with the seasons.
Disassembly
The first thing is to remove a lot of  nails using a variety of tools. …
Some of the nails I punch through the  wood with a hammer and then pull them out.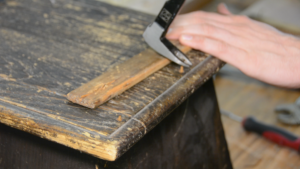 One of the sides is completely broken  and the other has a really big crack. But before solving the cracks there  is quite a bit of sanding to do.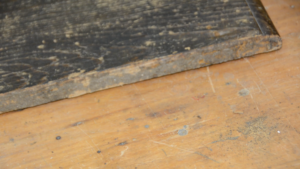 The cracks are very gummed up with glue residue  and dirt so that if won't be possible to glue them back together. I therefore cut  these parts away on the tablesaw.
Next I glue a strip of wood to the middle  piece to compensate for the loss in width. While the glue is drying I already put the  first round of woodfiller on all parts.
Sliding dovetails
I then measure the angle of the  step stool sides I set the table  saw to the same angle and cut  a piece of oak with that angle.
The oak will become a sliding  dovetail to properly support the seat and let the wood expand and contract. The dovetail slot is the reason that  I did not glued the seat back again so far. I route the slot into the three  parts individually on the router table.
The ends of the sliding dovetail are cut  to size and the seat is glued together.
With a file and a sander the new insert is  sanded flush with the profile of the seat.
I then add more woodfiller and after more sanding the entire piece is stained so that  the stain can dry over night.
Mounting the seat
The next day I route slots in the  sides and in a scrap piece of oak.
With lamellos glued only into the oak  piece I can screw the seat in place.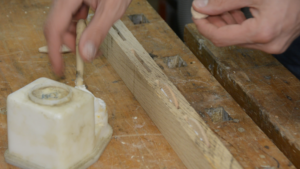 I next cut  the strip into individual  pieces on the table saw. Each piece gets a hole and is attached to the  bottom of the seat with a screw.
A few coats of hard wax oil and the stool  should be good for the next 50 years.